" Hello. I am the son of my father. My father is also my dad. You must be very strong to have made all the way here. I can sell you some weapons an Armor to help you in your journey." - Isaac Jr.
Isaac Jr. is an NPC located in Isaac's Equipment Shop, Who also sells High - end Items like Isaac Sr., his dad, in the same room, does.
He sells :-
Corruption Armor ( Artillery ),

corruption Legs ( Artillery ),
corruptor ( Artillery )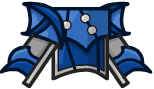 Empowered Armor ( Magic ),

Empowered legs ( Magic ),

Empowered wand ( one handed Magic Wand )

Inferno Sword ( 2 handed Warrior weapon )

Coal Blazer ( 1 - handed Warrior Weapon )

Millennium Bow ( Archer )
Isaac Sr., his dad, can complete class high level sets, because Isaac Jr. has only the required armor and legs to complete the empowered Magic set and corruption Artillery set, the 2 most powerful in the 2 classes in the game. Isaac Sr. has millennium ( archer ) and magma ( warrior ) set. except both of them don't have the shoes required to complete any set. Isaac Sr. also sells empowered staff and winged skull helmet.