Aerize Team
Logo: To be added soon
Founder: whaine_shin
Members: 24 as of 6-25-2014
Website: to be added soon
This Guild is for players that Erz personally owned.
We don't want to compete. We just want to have fun playing.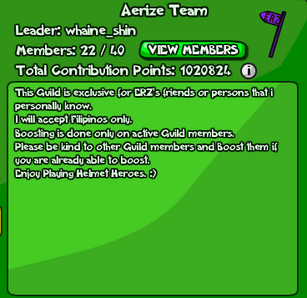 Joining Requirements
You should be personally knowned by Erz to Join in this Guild
♚ Aerize Team (Guild) Members ♚
Leader: whaine_shin
DyosangCrizel
erzwin
toto2315
balacano1
amam
1archer
Lloyd4569
Alam_Mo_Ba_Part2
toto2314
kvgsander
PogiAko3
rayniel12
paul12
reggie_23
amaan13
Pogi_Ako3_the_2nd
jrloverenren
jervine_03
kvgbinoo
luxus
Ad blocker interference detected!
Wikia is a free-to-use site that makes money from advertising. We have a modified experience for viewers using ad blockers

Wikia is not accessible if you've made further modifications. Remove the custom ad blocker rule(s) and the page will load as expected.